XCMG Issues the Industry's First "Leading Technology and Durable Service"
Release time 2017-03-02 15:27  
History never stops its pace of going ahead; era is expecting a new starting of China manufacture. On November 22, 2016, at bauma China, a gold standard release conference of "Leading Technology and Durable Service" action featured by industry foresight and leading was held in Shanghai- "City of Innovation". XCMG is leading Chinese manufacture industry to continue the new "Long March" and climb global industry Everest summit.
Never forget initial goal, XCMG gold standard appears in Shanghai
"We hope that 'Leading Technology and Durable Service ' can become the concept and belief abided by engineering machinery people, as well as the gold standard for industrial joint action, which shows the cultural core and essence of 'Made in China'; XCMG will take the lead in innovation, insist on ingenuity, cast the pillars of a great power, and realize world-class brand!", with a simple mind of never forgetting initial goal and facing the world, Mr. Wang Min, the Chairman of XCMG made the commitment of 'Leading Technology and Durable Service ' .
In today's world economy, China's construction machinery industry is at the key historical node from weak to strong, from taking root in China to going to the world, the deep integration of "Internet +" and "Made in China 2025" is promoting the upgrade of high-end equipment manufacturing technology and the transformation of business models. As a leader in the industry, XCMG will continue exploration and practice, and lead breakthroughs. Chairman Wang Min is the first person putting forward the concept of 'Leading Technology and Durable Service ' in the industry, which is the gold standard of XCMG, as well as the key point of casting the pillars of a great power.
At the release conference of 'Leading Technology and Durable Service ' gold standard, XCMG Vice President Li Suoyun said: "'Leading Technology and Durable Service ' is a concept combining information age characteristics, the trend of power nation strategy, the trend of market development, and XCMG 's development strategy, a concept supporting XCMG to reach the summit of Everest, a concept of product development, the direction of XCMG quality management, and a goal to be achieved in our work".
At present, the scale space of China's construction machinery has reached the peak space basically, but the industry has great potential to enhance value space. How to increase the value of the industry space? "Advance to high and medium end, increase the technological content of products, quality, and additional value, that is, realizing the gold standard of 'Leading Technology and Durable Service ' put forward by us is becoming more necessary and urgent." Li Suoyun, deputy general manager, said at the release conference, "advance to high and medium end in all respects, enter the markets of developed countries, increase corporate value and user value, these are the key solutions for China construction machinery industry to break through the current difficulties and break the bottleneck of growth; this road is difficult, but we will not retreat and have no choice, we must not forget our initial goal and struggle to move forward."
Technology leadership is the soul of advancing towards high and medium end
Manufacturing industry is the basis of national economy, to break the large but not strong deadlock in China's manufacturing, the key point is to make innovative breakthroughs in leading technology. When talking about the original intention of issuing the gold standard, Chairman Wang Min said, " the taste of 'clutching at the throat neck' is uncomfortable, only by solving the two world-class problems of ' Industry hollowing' and 'intellectualization', can China construction machinery be able to stand on the 'top of the world'.
"The increase of our innovation ability is divided into three levels," Li Suoyun said at the release conference: "The first level includes the common technology of the industry, 10% of the technical problems, the technology and standards that can guide industry development, with the formation of an innovative platform of industry-university-research cooperation by taking XCMG Research Institute as core; the second, direct face customer needs, conduct independent design in product design, take core technology as support, deeply study customer needs, jointly create demands, and ultimately meet the demands for products; the third, after the design, achieve accurate and rapid realization, conduct innovation and upgrade in the entire manufacturing course, process, quality control technology. "
To achieve technology leadership, long-term investment and insistence are required. In recent years, XCMG has established a comprehensive global collaborative R&D system, "use the world's top resources, take XCMG Research Institute as the center, and establish a global research and development system radiating to Europe, the United States, Brazil and other countries"; "We are in the process of internationalization, where a manufacturing base is located, especially for local market, we will set up a research and development center in advance to improve adaptation, so as to ensure that products can accurately adapt to customer needs," said Li Suoyun, while talking about XCMG 's technological innovation.
"The one who takes the bull nose of scientific and technological innovation, takes the lead in scientific and technological innovation, will be able to seize the opportunity to win advantages." XCMG always adheres to and continues expanding its core competitiveness, focuses on construction machinery, and has achieved the upgrading of technology and leadership in the industry. XCMG successfully developed the world's largest 4,000-ton crawler cranes, 2000-ton all-terrain cranes, 400-ton mining excavators and trucks, hundred-meter-level high-altitude fire engines (the highest in Asia), and a series of products representing China and even the world's advanced level; they are all XCMG's innovative and technological achievements; finally the country's treasure equipment has been able to show their powerful capacities in the world's important projects. Now many XCMG's innovative products have already successfully taken the lead in the world's high-end technology.
'Durable Service ' is the lifeline of the construction machinery industry
While visiting Germany, president Xi Jinping said: "Chinese speed needs German quality. Inspired by German "Artisan Spirit", Wang Min, chairman of XCMG, put forward the gold standard of Leading Technology and Durable Service, which is the best interpretation of "Artisans Spirit".
The life cycle of construction machinery is about 10-15 years, in order to ensure the effective long-cycle use, we need to implement high standards and strict requirements in every production link. In a media interview, chairman Wang Min said:" We will do everything and every work with the requirement of high-quality and high standards; every product should be manufactured carefully and improved continuously; without stable quality indicators and confidence, we will never launch a new product; our products delivered to users are all featured by famous brand, good reputation, and guaranteed quality."
The future industrial competition situation of "success due to users, defeat also due to users" promotes enterprises to always think of and arrange every innovative link of the whole industry chain in the user's point of view. 'Durable Service ' refers to the thought totally standing in the user's point of view and making customers achieve the maximum use value in full value cycle." At the release conference, Li Suoyun said: "the concept of Leading Technology and Durable Service refers to the high degree combination of advanced technology and reliability of equipment products. We must change the thought in the past that when we talked about innovation and products, we just laid stress on some of the so-called technical performance indicators, but forgot to emphasize on customer experience and reliability. Now we must pay attention to customer experience and create value for customers. 'Durable Service ' with the support of reliability is the real technical leadership."
In 2014, a creative theme activity "Sky Restaurant" was held at the Lujiazui Four Seasons Hotel in Pudong District, Shanghai, where 22 diners and two chefs took a metal platform to rise in the air, they enjoyed delicious food while enjoying the scenery. The equipment lifting the platform and diners is XCMG 300-ton all-terrain crane. Belgium organizer said that this was our first time of using China equipment after full investigation; XCMG crane fully met our requirements for safety, reliability, smoothness, and comfort.
"Lofty buildings cannot be built on the beach", "to manufacture engineering machinery products, a compacted foundation is required". Chairman Wang Min stressed: "truly realize ' Leading Technology and Durable Service ', return to origin, the most important thing is to achieve the most fundamental and basic product attributes successfully." At the release conference, Li Suoyun explained: " to achieve ' Leading Technology and Durable Service ', our goal is to achieve six leading features, that is, product reliability, environmental adaptability, security, maintainability, controllability, and economic use, and realize the four uses of easy use, effective use, durable use, and practical use!"
Deputy general manager Li Suoyun said that in order to effectively implement the gold standard of ' Leading Technology and Durable Service ', we extracted top ten quality management actions. First, establish an efficient and effective quality management system; second, import high performance management model in accordance with the sustainable development of enterprises; third, comprehensively and further promote Lean Six Sigma management; fourth, use XCMG quality belief to influence the behaviors of XCMG employees, stakeholders, and partners; fifth, enhance all-round technological innovation capability and create a leading technology product group; sixth, use the improvement of innovation standard to lead the development of the industry; seventh, rapidly respond to customer needs and provide clients with customized services; eighth, achieve smart manufacturing and intelligent supply chain management; ninth, change operating system and innovate business models; tenth, collect the world's talents to help XCMG to reach the top of the industry.
It is precisely because of this action gold standard, XCMG always takes excellent product quality as the motive force for the enterprise to achieve leapfrog development. "As a manufacturer of construction machinery, we feel a great sense of responsibility, the mission is glorious, so we must seize the opportunity, carry out reform and innovation, and do a hard and solid job with the spirit that time and tide wait for no man to really create products featured by ' Leading Technology and Durable Service ', and make our products become the treasures of a great power and our brands become famous around the world," said chairman Wang Ming while receiving an exclusive interview of a reporter of "People's Daily".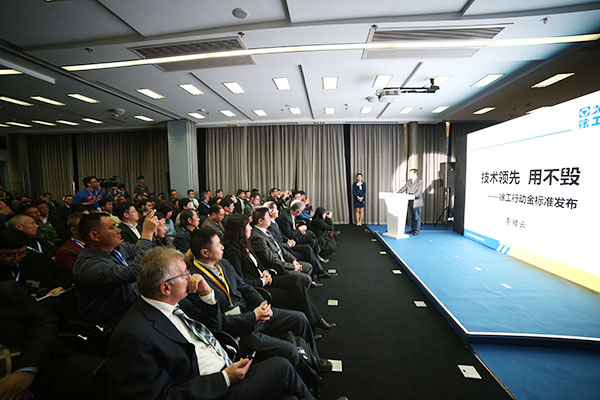 Release Conference of the Industry's First "Leading Technology and Durable Service" Gold Standard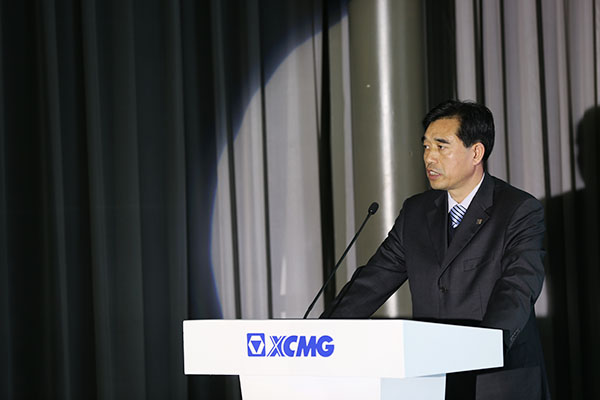 The Deputy General Manager of XCMG at the release conference of "Leading Technology and Durable Service" Gold Standard