XCMG Environment Equipment's Annual Sales Increased by 1.5 Times
Release time 2017-03-01 13:16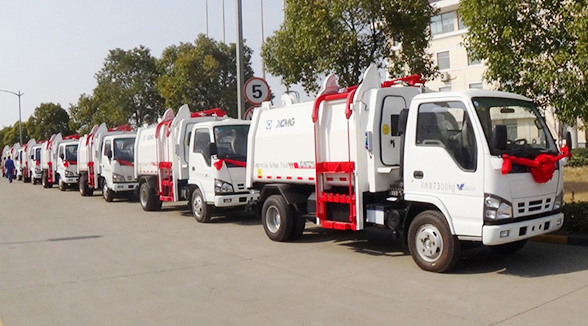 In 2016, guided by the operation philosophy of "international, precise and sustainable development while making weak points strong", XCMG Environment Technology focuses on product development, reliability improvement and professional team building. It is gradually shifting the business model from "product sales" to "product sales + operation service", thus increasing sales revenues of environment equipment by 150.9% on a YOY basis. The sales revenues of road sanitation machinery rose by 192.7% on a YOY basis, accounting for 36% of the total.
By enhancing layout, it made breakthroughs in various channels
XCMG Environment Technology keeps promoting its marketing model featured by sales + direct sales, enhances evaluating and integrating existing dealers, and emphasizes on fostering and building system of strategic core dealers. The number of dealers fell from 56 in the year beginning to 21 nowadays with the number of agents rising to 75. XCMG Environment Technology has grasped opportunity brought by government-supported PPP projects and outsourced service, and facilitated partnership with operation companies and property management companies to undertake operation projects. It has implemented its first operation project, namely, the mechanized cleaning service project in Qinghe County of Hebei Province. At the same time, the company has established strategic partnership with sanitation & cleaning associations in Guangdong, Zhejiang, Fujian and Anhui, etc. while achieving partnership in operation projects with many famous property management companies and operation companies in China. Besides, XCMG Environment Technology has successfully developed new users in the fields of highway, municipal facilities, oilfield, airport and railway, selling over 120 units to these new users. Having the Belt & Road Initiative in mind, XCMG Environment Technology is active to enhance market planning while exploring overseas market. Till today, sanitation products of XCMG have been exported to many countries and regions in America, Africa, Southeast Asia and Hong Kong, etc.
Focusing on demand, the company holistically improves products
High-tech products constitute foundation of enterprises. Steered by the benchmark of "leading technologies & never-fading products", XCMG Environment Technology has accelerated new-product development and product upgrading. It has launched series street sweepers, single-sweeper trucks, city pipeline maintenance equipment, new-energy and clean-energy products, multi-purpose ice and snow equipment and other sanitation equipment. The Little Bee street sweeper, winning Golden Pin Design Award, is favored by users immediately after launched into the market. Small-batch sales have been achieved. The single-sweeper trucks adopt upper transmission device and mechanic & hydraulic transmission system. In this way, it is powered by chassis engine to improve emission standard while reducing fuel consumption. The sewer dredging & cleaning truck, for the first time, uses grouting method to take the non-digging, visualized and point repair process for underground pipelines, thus greatly improving work efficiency. Besides, XCMG Environment Technology also cores on its major functions and users' needs to facilitate product upgrading and reform. It has made reforms in waterway system matching, electric system reliability and life span of quick-wear parts, which effectively solves problem of water traces caused by sanitation trucks. The waterway system has improved continuous operation time by 38%. After making performance test and formula study of durable brushes, the company can now produce its now brushes and improve its life span by one time.
With circular optimization, the company has improved manufacturing ability and efficiency to a new level
Since put into use, production base of XCMG Environment Technology has been active to adjust production layout, optimize existing techniques, and improve manufacturing efficiency. By working out detailed procedure of production, the company has realized flow production of mixed and soft production line of road surface trucks and compactor trucks. At the same time, it ensures 235 spots free from welding in four categories of dominant products, realizing welding-free assembly of hook-lift and compactor trucks. After making continuous reforms and optimizations, the sanitation trucks are now assembled at the speed of one unit in 1.5 days, shortened from one unit in 5 days and 3 days in the year beginning. Meanwhile, the company has also implemented the Product Details & Quality Improvement Program. By making strict reliability tests of essential parts and components, it has finished certification of 11 parts and components in valve, lock and appliance. Focusing on evaluating and improving details & quality of hook lift, street sweeper, sweeper truck and compactor truck, it has made 206 quality improvements, thus greatly upgrading product performance, appearance and quality. At the same time, it optimizes layout of suppliers to improve their supply capacity. By making supplier accreditation and quarterly and yearly appraisal of supplier performance, the company has removed 10 suppliers out of the list. It also unifies models of purchased and outsourced parts to reduce purchase cost.